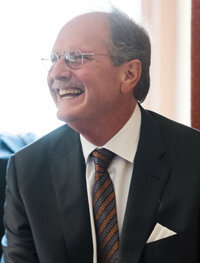 Victor Marc Thomas
Victor Marc Thomas, who went by Marc, passed away on Sept. 24 after a long battle with cancer. Born on Dec. 7, 1956, he spent his final moments with his wife, Marci Thomas; son Travis Thomas; and daughter Traci Ruether. The 66-year-old enjoyed fly-fishing, traveling and reading — splitting his time between Evergreen and Pagosa Springs, Colo.
Marc was the "super baby" son of Carol Sue Thomas and the late Victor Carl Thomas; eldest brother of Lance and Todd Thomas; grandpa "Grumps" of Luella and Zelda Ruether; father-in-law of Andrew Ruether; brother-in-law of Sherri Thomas, Heidi Thomas, John Evans, Michelle Evans and the late Ken Evans Junior; uncle of Crystal Monk, Kenny Evans, Alex Thomas-Haley, Brandi Thomas-Dotter and Kalia Thomas.
Marc had a very successful career as the CEO and co-owner of Tarco Inc. As the state's largest privately owned earthmoving contractor, Tarco employed 450 Coloradoans at the height of operations. Under the management of Marc, his brother Todd and his father Vic, the company helped build the Denver International Airport (DIA), Evergreen Parkway and Park Meadows Mall, among many other developments. Marc also served on the board of the Colorado Contractors Insurance Trust, spending a decade as the chairman and helping to insure 6,000 member families.
Marc graduated from CU Boulder in 1981 with a Bachelor of Business Administration focusing on mineral and land management. He also spent two years at Fort Lewis College in Durango, during which time he fell in love with the town of Pagosa Springs.
He met his wife, Marci, in 1983 through a radio dating show. She called the station while in town on a business trip. Marc's kids are thankful he had a quarter in his pocket to contact the radio station on a pay phone after hearing her recording.
Marc was a Denver sports team enthusiast and CU Buffs fan. He was also the beloved parent of his late dogs, Rowdy and Mingo. Family was the most important thing in the world to him, and he will be remembered for his motto, "charity starts at home."
In remembrance of Marc's life, the family asks that donations are made to the Boys and Girls Club of the Southern Ute Indian Tribe or the American Cancer Society.