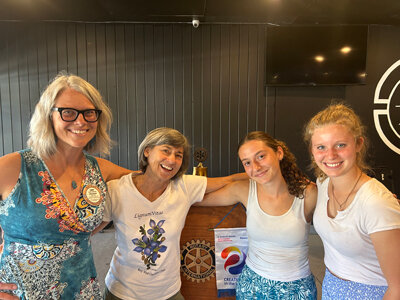 By Lisa Scott | Pagosa Springs Rotary Club
The Pagosa Springs Rotary Club is currently hosting Charlotte Duranton, high school junior, from Annonay, France, who arrived in Pagosa Springs Aug. 23.
Annonay is in southeast France, about an hour from Lyon, and a town of 16,700 inhabitants. The Montgolfier brothers invented hot air balloons in this city and Annonay is dubbed "the city of hot air balloons."
Duranton's father trains technicians for heating and air conditioning, her mother is an operating room nurse and she has an older brother and a twin sister, both in high school studies. She and her family are very athletic and are all runners and play korfball, a sport that mixes basketball and handball.
At Pagosa Springs High School, she is enrolled in some typical American classes including U.S. history, English and math. She is also taking science classes, which are her favorite, and several electives like wilderness skills, and hospitality and tourism. Since she's a runner, she has joined the cross-country team this fall. Durantons first host family is Gwen and Tim Taylor and their daughter Lucy Taylor, senior.
Last school year, Agustin Perez-Leal, from Argentina, was hosted by the families of Jean Garcia, Karen Ross and Yul Wilson, and DeEtte and Oliver Phillips. Everyone had wonderful exchange experiences and made close family connections.
The Rotary exchange program is always interested in talking with students who are interested in the outbound program and families interested in hosting a student. Anyone who is interested in learning more about this opportunity should contact Rotarians Lisa Scott, (970) 749-4268, lisascott5680@icloud.com; Marianne DeVooght, (970) 731-2009; Ronnie Doctor, (920) 946-6367; or Granton Bartz, (970) 946-2827.
The Rotary Clubs in Pagosa Springs have participated in the International Youth Exchange Program since 1991. Students apply for this opportunity through the local Rotary Club and are interviewed and selected by committees in each country. Once a student is placed, they spend 10 months in that community and live with two or three different families during their time abroad. This way, they experience different family environments and meet a wider variety of people.
Rotary clubs in town include the noon club, which meets Thursdays at noon, and the evening club, which meets every other Thursday at 5 p.m., both at The Den. Rotary is always accepting new members and invites anyone who would like to explore the opportunity to make contact with any community Rotarian or the names listed above.
Rotary International is an international service organization whose purpose is to bring together dedicated individuals to exchange ideas, build relationships, take action and help build goodwill and peace in the world. There are more than 24,000 clubs and more than 1.4 million members worldwide.