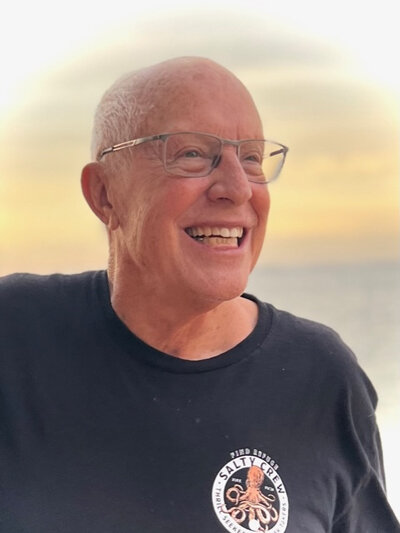 Richard "Rick" Johnson made his transition in the early hours of July 16, 2023, peacefully from the comfort of his home in Pagosa Springs, Colo. He is survived by his wife and high school sweetheart, Sharon Johnson. Together during their 59 tears of marriage they raised two daughters, Cammie Buron and Robin Wolfe. The girls blessed the family with Cammie's husband, Otto Buron, and their children: Mason and his wife, Cassidy; Slater and his fiancé, Jade Montoya; and Ryker; as well as Robin's husband, Scott Wolfe, and their children: Courtney, Lindsay, Carson and Calianna. Rick would often tell his daughters how he thought he knew amazing love when he became a father, but that it was "just a drop in the bucket" compared to the incredible amount of joy and fulfillment he received from being a grandfather. He loved being a part his grandchildren's lives and attending their sports and activities. In return, Rick is loved, respected and adored by his grandchildren, who often praise his humor, artistic talents, love of the outdoors and life in general.
Whether you knew Rick well or experienced a brief encounter, you were always greeted with a huge smile — he loved to make people laugh. His natural humor and ability to entertain served him well throughout his life. Rick was born and raised in Alamosa, Colo., by his parents, Carl and Wilma Johnson. Rick was an Eagle Scout who carried the love of the outdoors and service to people forward throughout his life. Rick earned his bachelor's degree in business and education from Adams State College. As a teacher, he enjoyed educating and inspiring students at Moffat High School. Rick also volunteered as a fireman, which culminated in him becoming fire chief. He was soon offered a managing position at the ASC bookstore. Rick was promoted to director of purchasing for ASC, where he worked until the day he celebrated his retirement by riding his Harley Davidson motorcycle down Richardson hall. ASC honored Rick's 29 years of devotion to the college with the "Distinguished Service Award."
Retirement gave Rick the opportunity to take advantage of all the things he loved to do in life. Rick put his woodworking talents to use by taking a big part in the building of their dream home in Pagosa Springs, Colo. This included a woodshop where he created unique furniture pieces and artistic antler chandeliers. He spent much of his time outside creating gardens, waterfalls and winding rock paths, including many areas to gather with friends and family. He also loved riding his Harley, spending time at Lake Navajo and relaxing at the mountain cabin he helped his parents build in South fork, Colo.
Rick packed a lot of living, passion and especially love into the 79 years he graced us all with his presence. As his family we could not be more proud of the man that is our father, grandfather and husband.
Although we miss his smile and humor, we are comforted by the incredible memories, faith and genuine love he showed to each and every one of us.
The celebration of life will be held Sept. 23, 1 to 4 p.m., at the Cottonwood Cove Guest Ranch in South Fork, Colo. To leave online condolences, remembrances and words of comfort, please visit www.RogersFunerals.com.