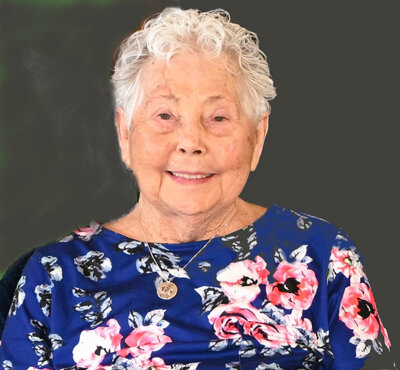 Peggy "Joyce" Danford
6/18/1932 – 8/10/2023
Joyce Danford was born in St. Louis, Mo. She grew up in Ignacio, Colo.; Durango, Colo.; and the Panama Canal Zone. She moved back to the states at age 18. She married Joseph Franklin Danford Jr. on May 12, 1951. They had four children. They lived in multiple states during the growing-up years of the children. Joseph and Joyce divorced in 1978 in southern California. Joyce taught at preschools and day cares and eventually started her last career as a nanny. She had many wonderful clients who loved her dearly. Joyce became a commercial hot air balloon pilot along with her daughter, Peggy. This was a very fun and adventurous time of her life, making lifetime friends in the ballooning community. They flew their balloon in various events around the country. Joyce also competed in a hot air balloon competition in Rio de Janeiro, Brazil. Joyce retired from her nanny career and moved back to the family ranch near Ignacio, Colo., to care for her mother in the early 2000s. She was active with the Ignacio Senior Center and was a member of the Advisory Board of the San Juan Area Agency on Aging for several years. Joyce loved the ranch she had been raised on as a little girl and was blessed to pass away peacefully there surrounded by family on the evening of Aug. 10, 2023. She was much loved by her children, grandchildren, great-grandchildren, nieces, nephews and friends. To anyone who needed her, Joyce was considered mother, grandmother and aunt. She will rest in peace knowing she was loved by many. May God lift you up on eagle's wings.
Peggy Joyce Danford is survived by her brother, Dee Masters (Theresa Sherwood Masters) of California; her four children, Jeannette Marie Danford Saunders, of Texas, Peggy Jo Danford Jones, of Colorado, Bruce Alan Danford (Kitty McGahey Danford), of Colorado, and Karla Sue Danford (Tank Scott), of Colorado; grandchildren Egan Mahon Saunders, Kathryn Marie Saunders Prerost (David Prerost), Courtney Serena Jones, Kathryn Michael McGahey Lovett (Tim Campbell), William James McGahey Lovett (Amanda Lovett) and Samuel Edward Scott (Roni Lyn Scott); great-grandchildren Sage Marie Prerost, Ava Grace Prerost and Kaliyah Marie Scott; her nieces, Carol Masters (Howard Swader), Jody Rhea Masters (Michael Borin) and Caitlin Virginia Masters (Donald Raye Hammond); and nephews David Danford (Dee Danford), Joseph Andrew Danford (Debbie Danford) and Alex Danford-Rincon.
Joyce was predeceased by her father, Carl Edward Masters; her mother, Catherine Newman Masters; and her older brother, Karl Masters.
The memorial service for Peggy Joyce Danford will be Oct. 6, 2023 at St. Mark's Episcopal Church in Durango. The service begins at 10 a.m. with reception to follow in Parish Hall.
Memorial contributions may be made to the Ignacio Senior Center or St. Mark's Episcopal Church, Durango.