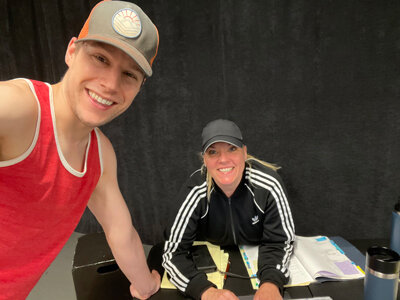 By Carole Howard | Thingamajig Theatre Company 
Actor Craig MacArthur Dolezel and director Melissa Firlit are returning to the Thingamajig Theatre Company stage for a one-man performance of "Marrow," the headline feature of the theater's fall season that opens at the Pagosa Springs Center for the Arts on Oct. 13 at 7 p.m.
The show will play for five performances, closing Oct. 20.
"Marrow" is a deeply honest and occasionally darkly humorous drama about a gay artist who takes a euphoric journey through his memories while recovering from a vicious hate-inspired beating. It is an urgent plea for mutual tolerance and respect regardless of sexual orientation and gender identity.
The show was very well received at the 2019 and 2022 Edinburgh Fringe Festivals where Broadway Baby called it "solo theatre on a big topic at its finest." As well, an early workshop production earned Dolezel the Gypsy Rose Award for best actor by the Seattle Critics Group and Seattle Theater Writers.
Firlit said, "Hopefully people come away from the show contemplating the destructive nature of hate and possessing a renewed appreciation for everyone's right to exist and love."
New York City-based artists
The star of the one-man, 55-minute play is Dolezel, who has wowed Thingamajig audiences in the past with powerful performances in "Red," "A Few Good Men," "Good People," "Steady Rain," "Misterman" and "It's a Wonderful Life." Well-known for his solo performances that are multilayered, Dolezel also is a versatile actor in other genres and a teacher of master classes in voice and diction.
"Marrow" is directed by Firlit. She is greatly admired by Thingamajig audiences for her work as the director of multiple hits from serious dramas like "Red" and "Proof" to blockbuster musicals like "Jekyll and Hyde," "Aida" and "West Side Story." She also serves as artistic director of the Thingamajig Playwrights Festival, which develops and workshops the work of emerging playwrights.
Brian Quirk is the author of "Marrow." Several of his other plays have been workshopped at the Thingamajig Playwrights Festival in previous years.
All three artists are residents of New York City.
Tickets available now
Tickets for this featured fall show are $35 and are available with the performance schedule on the theater's website at pagosacenter.org or by phoning the box office at (970) 731-SHOW (7469). They are included in the theater's current season ticket package. Evening performances are at 7 p.m. and matinees are at 3 p.m.
Thingamajig Theatre Company was co-founded in 2011 by Tim and Laura Moore. It is an award-winning professional nonprofit 501(c)(3) theater in residence within the Pagosa Springs Center for the Arts. Its talented actors, directors and production experts come from across the U.S. to produce musicals, comedies and dramas year-round. Thingamajig also is dedicated to providing theatrical experiences and educational opportunities for youth and teens in our community.