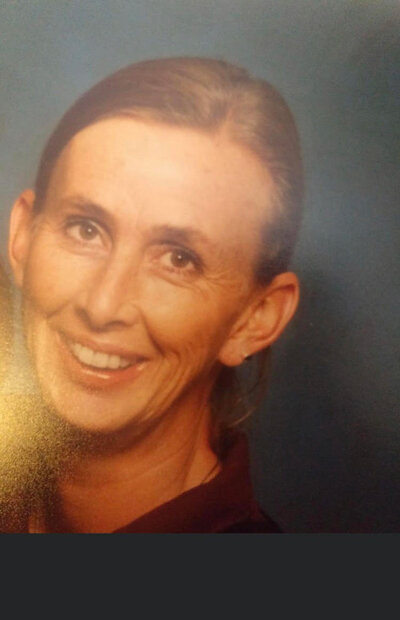 Lifelong Pagosa Springs resident Cindy Spear passed away unexpectedly on Wednesday, Sept. 13, 2023, at Mercy Medical Center.
Cynthia Elaine Nossaman was born on Feb. 5, 1961, to Royal and Elaine Nossaman. She joined her sister, Susan, to complete their family of four. Living on the ranch that had been conveyed to Royal and Elaine from her grandparents Charles and Elizabeth Johnson, she developed a love of animals and caring for nature. Cindy started first grade in Dulce, N.M., when her mom began teaching school for the Dulce Independent School District. Cindy spent her childhood living between Dulce and her home on the ranch in Pagosa as she attended school in Dulce and spent the weekends and summer in Pagosa. She participated in 4-H during the summers and honed her skills in gardening, sewing, cooking and leathercraft. She took piano lessons from Mrs. Thompson for around a decade. While she was overheard saying, "Why do I have to learn this? I just want to be a Mom," throughout her school years, she graduated from high school in Dulce in May of 1979. Cindy went on to be a lifelong learner, completing her bachelor's degree in psychology from the University of Phoenix. She was a "Jacqueline of all trades," doing home repairs and fixing her cars; and, as she liked to say, "her hero was the Little Red Hen."
Following high school, she attended a floral design school in Denver. She married Sean Burk in July of 1980. In June 1981, her childhood dream of being a mom was fulfilled with the birth of her oldest son, Raymond, followed by Lara in 1982 and Eddie in 1985. The family lived in Denver for a period of time, then returned to Pagosa Springs.
There was no such thing a stray puppy or lonely child with Cindy; she would take them all home and love them. She lived on the farm that had been her parents raising goats, pigs and chickens helped by her own children and the "adopted" ones. When her children were grown, she was happy to take on the role of Grandma Cindy, loving all nine of her grandchildren. She also worked at several businesses around town, including the Sonoco, City Market and Bob's LP. She spent the past several years caring for her oldest son, Raymond, who was born with cerebral palsy.
She is preceded in death by her parents, Royal and Elaine Nossaman, grandparents Charles and Elizabeth Johnson, and Clarence and Elizabeth Nossaman and an older brother, Baby John Nossaman. Also, her partners Marcel Dauguard, Reese Snow and "unofficially adopted" sons Jake Bramwell, Ryan Lister and Abel Lister.
She is survived by her children: Raymond Royal Burke, Lara Lei Riley, Eddie John Clarke-Nossaman-Burk and his wife, Randye. Also, by her grandchildren: Anna Marie and James Burke; Angelina and Charlie Graves, Leonidas and Lieve Riley; and Asher, Hayden and Lily Burk. Also, her sister, Susan Elizabeth Nossaman; nieces Elizabeth Anne Felts and Lauren Marie Felts-Salazar.
Services for Cindy will be held at 11 a.m. on Friday Sept. 22, 2023, at the CSU Extension building. Her family would like to invite those attending to bring a potluck dish to share food and fellowship after the service. Burial will follow at the Nossaman Family Cemetery at the Nossaman Ranch.