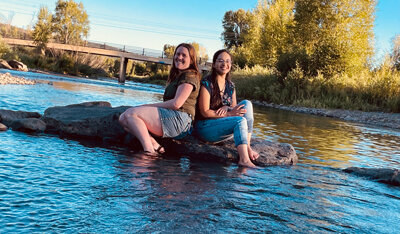 Josie Snow and Carmelita Perez contemplating their item from nature to add to their team "Bling-able" outfit for the Runway for Rise Fashion Gala on Sept. 30.
By Dee McPeek | Rise Above Violence
The first annual Runway for Rise Fashion Gala being held at 6 p.m. on Saturday, Sept. 30, is in full planning mode and getting more fun every day.
All the teams, including the "Bling-ables," are assembling their outfits and accessories to model. They are rehearsing with runway coach Adrienne Young while the tech team of Dale Scrivener and Markus Hughes constructs the music and lighting. Master of Ceremonies Gus Palma and Auctioneer Darren Lewis are preparing their scripts so a great time will be had by all attending.
Do you have your tickets yet? Reserved tickets are $75 and general admission tickets are $50. The seats are filling up fast and there are a limited number available. Don't miss out on this entertaining evening. Go to riseaboveviolence.org to pay for your tickets.
Bring your friends to enjoy a girly social night out. Wear your fancy outfits, shoes and hats, and you might win a prize. Plan to participate in the Wine Pull for beautiful bottles of high-value wine. Each bottle is $50 and you could win the Wowza bottle of 2019 Kathryn Hall Cabernet Sauvignon valued at $225.
After the show you can vote with your dollars for your favorite team to win the Pagosa Prada Award. You will also vote for the team you believe was the most creative at using the required recycled elements to be the first ever Catwalk Creative Team.
Early online voting is still open at riseaboveviolence.org to support these amazing groups of women using their time and talent to help Rise Above Violence.
This organization has a multi-faceted approach to violence in our community. Did you know Rise Above Violence is willing to come talk to your group and provide general information up to professional training specialized to your needs? Presentations range from sexual harassment prevention in your workplace to how to help a victim of domestic violence or sexual assault in your neighborhood, workplace or as a friend or colleague.
Rise has worked with local clergy, educators, employers, health care systems and other allied professionals to become increasingly trauma-informed in ways to get involved so victims don't stay trapped in silence.
If you are interested in learning more about what Rise can provide for your group or workplace, please call Carmen at (970) 264-1129, ext. 1.
If you have questions about the event, call Dee at (970) 317-3224. Now, go buy those tickets.