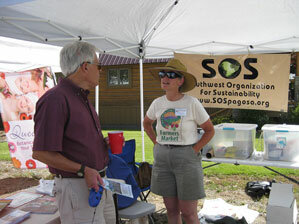 By De Anna Hoyle | Southwest Organization for Sustainability 
It started as a tiny seed of an idea in the early 2000s and most likely even before that. A small group of concerned Pagosans came together with the purpose of leaning about ways to make our beloved community a more environmentally sustainable place. As environmental issues came to the forefront in the minds and hearts of many people, this idea seed grew into the Southwest Organization for Sustainability (SOS), a nonprofit here in Archuleta County.
With the broad mission — to promote a sustainable community with a primary focus in Pagosa Springs and Archuleta County — the goals of SOS are simple:
• Communicate with and educate the public and elected officials about choices that affect sustainability.
• Undertake and support specific projects that foster sustainability.
• Offer coordination by partnering with a variety of individuals and groups to fulfill community needs.
• Research best practices adopted elsewhere to foster sustainable communities.
• Investigate funding options to support local sustainability efforts.
• Maintain awareness of sustainability efforts in the Four Corners region.
These goals, created nearly 20 years ago, are the foundation of this volunteer-run organization. The growth of continued sustainability efforts in the county are evident within our community. From local food systems to promoting awareness of the precious resources of our planet, the spirit of SOS's mission is alive through the amazing Geothermal Greenhouse Partnership (PagosaGreen.org) and outstanding work of Healthy Archuleta (FoodCoalition4Archuleta.org), two local entities that have trailblazed sustainability practices.
As the fiduciary entity that holds the Pagosa Farmers Market, and continues to grow its potential through the Pagosa Online Farmers Market (PagosaFarmersMarket.net), SOS (SOSPagosa.org) is vital to the community, its residents and the wider world.
In future articles, we will highlight the ways SOS and its partners have contributed to making our home, the earth, a sustainable garden to live, play and work in — for the future of our children and our children's children. Visit the website to become a sustaining member of this work.