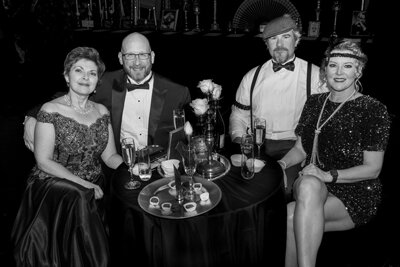 By Abbie Karas| Pagosa Peak Open School
Ready for a stroke of luck?
Prepare to take a chance, play your cards and uncover your fortune during a captivating night of casino-style entertainment at the annual Pagosa Peak Open School (PPOS) Gala Fundraiser, "Viva La Pagosa," on Oct. 21.
Attendees will step into the venue adorned in their finest attire, faced with a delightful choice: dive into the excitement at the gaming tables or revel in the captivating melodies of local blues and jazz with Bob Hemenger on the dance floor. Prepare to be dazzled by Vegas-inspired entertainment, including the mesmerizing Sass A Frass and other talented local performers.
Indulge in signature cocktails and explore the silent auction tables showcasing local businesses. In between auction excitement, savor handcrafted small plates by two of Pagosa's favorites. Upgrade to the VIP package for exclusive perks and capture memories in Vegas-themed photo booths. As the night unfolds, exchange your chips for a chance to win top jackpot prizes.
Last year's gala celebrated the "Golden Age of Hollywood," a period-themed red carpet gala. Attendees reveled in live music and dancing. The beautifully decorated venue matched the guests' glamorous attire, truly embracing the evening's spirit.
Join us to celebrate art, education, and community collaboration at this year's spectacular event.
All proceeds will go toward operations and programming at PPOS — Pagosa's first district-authorized, public, tuition-free, K-8 charter school. PPOS is an intentionally small school with a hands-on, project-based learning environment designed to foster a joy of learning, confidence and academic excellence through multiage collaborations, and original and meaningful work.
Reaching our mission to develop brave and experienced lifelong learners requires extensive funding, and the school's operational budget relies heavily on grants and fundraising events.
PPOS receives less funding than other public schools in Archuleta County, and furthermore bears the weight of operational costs such as mortgage, maintenance, utilities and transportation. These school funds could otherwise be applied to competitive teacher salaries, class supplies, fieldwork options and growth opportunities for students.
To learn more about PPOS, please visit pagosapeakopenschool.org. For sponsorship opportunities, please contact Abbie at ParentCouncil@ppos.co. Follow the event on Facebook for more details. Tickets are limited and can be purchased at PagosaCenter.org.