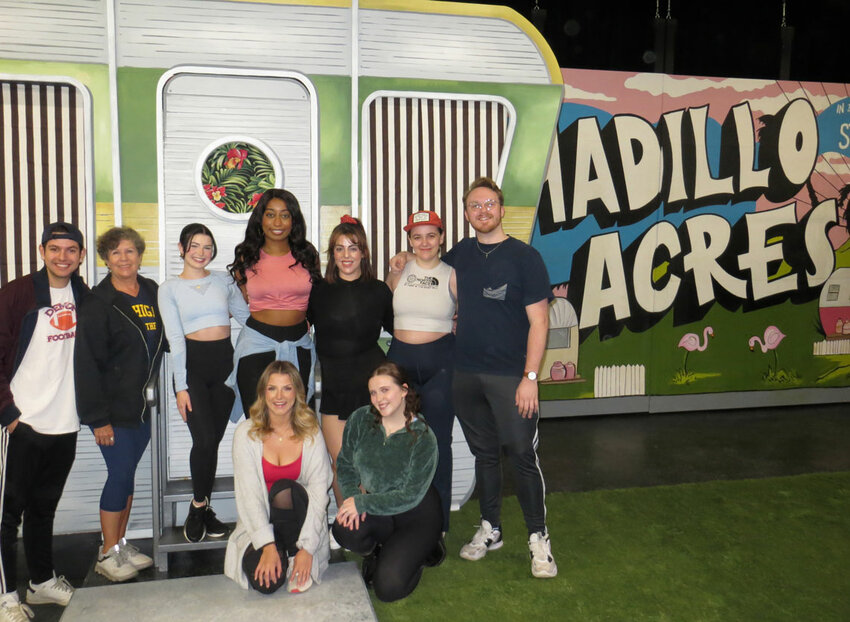 By Carole Howard | Thingamajig Theatre Company
Professional actors and directors are arriving in Pagosa from across the U.S. — from Michigan to Louisiana, New York City to Utah — and rehearsals are underway for "The Great American Trailer Park," the first musical of the summer season presented by Thingamajig Theatre Company at the Pagosa Springs Center for the Arts.
The three Broadway in the Mountains musicals this summer are "Trailer Park" opening June 2, "Jersey Boys" opening June 16 and "Godspell" opening June 30. They will run in rotation until late August.
"Newsies Jr.," playing July 15 and 16, will be the theater's Whatchamawhozits children's summer camp show. This year's fundraising Broadway Gala will take place July 25.
Returning favorites
plus new talent
Five of the 14 professional actors performing this summer are much-admired favorites with local and out-of-town audiences from previous performances at Thingamajig. They include Trevor Brown, Rosa Campbell, Kristi Contreary, Samantha "Sam" Luck and Allie Tamburello. Campbell also will be stage manager. As an added bonus, dancer Dani Loewen returns as the choreographer for "Jersey Boys."
Others on stage will be talented new faces.
All the actors were recruited by Tim Moore, Thingamajig's artistic director, on a month-long nationwide audition trip that took him to New York City, Memphis and Michigan where he saw 7,800 artists and issued callbacks to 300 before choosing the final 14.
"This is a singers' season, so everyone is a very strong vocalist," Moore said. "It was exciting to see so much fresh new talent.
"I was very impressed with the wave of skilled young actors that I met. I'm sure some of them will make it to Broadway as their careers advance, as several past Thingamajig alumni have done. It is a thrill for us to have them perform on our stage this summer, along with some of our most popular stars."
Top directors take
leadership roles
Ann Evans Watson comes from Michigan to direct and choreograph "The Great American Trailer Park Musical" in her first appearance at Thingamajig. She is associate professor of musical theater at the University of Michigan, an Equity actor, vocal instructor and coach. Many of her students have performed on Broadway and have won prestigious acting awards.
Dennis Elkins comes from New York City to direct "Jersey Boys." The former head of the Fort Lewis College theater department, he is well-known to Thingamajig audiences. Here he starred in dramas including "Red," "A Picasso" and "A Few Good Men"; played major roles in musicals like "Cabaret" and "Hairspray"; and directed hits like "Thoroughly Modern Millie" and "A Christmas Carol." He also wrote and starred in a one-man autobiographical trilogy. He will perform the third show, "blood(line)," at Thingamajig on July 2 at 7 p.m.
Andrew Barratt Lewis comes from Utah to direct and choreograph "Godspell." He is associate professor of musical theater at Weber State University in Ogden and well-known as a director and choreographer. Also a Thingamajig favorite, he previously directed "Bright Star" here last summer, as well as past Christmas shows "Grand Night for Singing" and "Miracle on 34th Street."
Boni McIntyre is the music director for all three shows. She has a wealth of experience with Thingamajig musicals, having been music director for multiple productions including "Jekyll & Hyde," "West Side Story," "Ring of Fire," "Legally Blonde" and "Mamma Mia!".
Mackenzie Lowe returns to Thingamajig as lighting designer, a key role she has held here since 2019.
Artist extraordinaire Jill Fives returns as set designer for the summer season. Her brilliance in creating sets that are perfect for the mood and story of each show has dazzled Thingamajig audiences for many years.
Best of Broadway
"The Great American Trailer Park Musical" is a heartwarming musical comedy about the female experience that explores the complicated relationships between a group of misfits living at a trailer park in Florida. It was performed off-Broadway in 2005, toured nationally in 2008, played at the Edinburgh Fringe Festival and in the U.K. that year, and also spawned a Christmas version.
"Jersey Boys" became an international music phenomenon as it dramatized the story of the formation, success, eventual breakup and great music of Frankie Valli and the Four Seasons, the iconic '60s rock 'n' roll group. Winner of the Tony, Grammy and Olivier awards for best musical, it later became a hit movie. One of the bestselling groups of all time, the Four Seasons sold an estimated 100 million records worldwide and were inducted into the Rock and Roll Hall of Fame.
"Godspell" is structured as a series of parables principally based on the Gospel of St. Matthew, interspersed with multiple music styles. It was a long-running success off-Broadway and in touring productions, and enjoyed a 2011 Broadway revival. Several cast albums have been released over the years. One of its songs, "Day by Day" from the original cast album, reached No. 13 on the Billboard pop singles chart in 1972.
Season ticket benefits
To ensure you don't miss any of the three summer musicals, consider buying season tickets. Multiple benefits go along with being a season ticket holder including invitations to exclusive events, free drink tokens on opening weekends, discounted tickets, no ticketing fees, reserved seats, unlimited ticket exchanges at no extra charge, and come-again tickets to see a show a second time while bringing a paying guest when you attend an opening weekend performance.
Other exclusive benefits include an invitation to Thingamajig's wine and cheese open dress rehearsal on June 7 and an invitation to the wine and cheese winter season announcement in August.
Season tickets are $120 per person and $200 for a reserved seat. They are available on the theater's website at pagosacenter.org or by phoning the box office at (970) 731-SHOW (7469).
Individual tickets for the shows also are available on the website — $42 for adults for all three shows and $25 for kids 12 and under for "Godspell." "Trailer Park" and "Jersey Boys" are recommended for more mature audiences. Evening performances are at 7 p.m. and matinees are at 3 p.m.
Friends of the Theatre opportunities
You also can pay your annual Friends of the Theatre dues of $35 per person on the theater's website.
Becoming a Friend brings you multiple fun interactions with the actors and directors including social gatherings, invitations to behind-the-scenes events, excursions to Williams Lake for water sports in the summer and Wolf Creek for skiing in the winter, and opportunities for one-on-one interactions if you provide rides to and from the Durango airport for traveling artists.
Thingamajig Theatre Company was co-founded in 2011 by Tim and Laura Moore. It is an award-winning professional nonprofit 501(c)(3) theater in residence within the Pagosa Springs Center for the Arts. Its talented actors, directors and production experts come from across the U.S. and around the world to produce musicals, comedies and dramas year-round. Thingamajig also is dedicated to providing theatrical experiences and educational opportunities for youth and teens in our community.