17th annual Mountain Chile Cha Cha, 15th annual Patty Aragon Green Chile Classic set for Saturday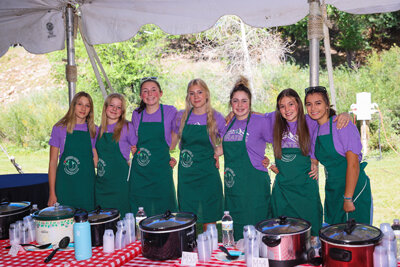 By Jacque Aragon | Mountain Chile Cha Cha
As fall approaches in Pagosa Springs, the days become shorter, the nights cooler, and the scent of freshly roasted green chiles fills the air, signifying the annual harvest of green chiles, particularly the Hatch variety from New Mexico and Big Jims from Grand Junction.
The Patty Aragon Green Chile Classic is an event that showcases around 50 participants, both amateurs and professionals, who compete for cash prizes, trophies and bragging rights by presenting unique green chile recipes. From traditional to experimental, the cook-off offers diverse green chile flavors and styles for attendees to explore and enjoy.
Apart from the chile competition, the Mountain Chile Cha Cha also features other fun activities for people of all ages. The event begins with a 5k and 10k trail race and offers activities for children, a Mexican beer garden, and a margarita tasting. Attendees can also indulge in different food vendors. Another event highlight is the opportunity to buy locally grown and freshly roasted green chiles to create unique dishes.
The lively Latin rhythms of Sangre Joven, an award-winning band from New Mexico, will provide electrifying entertainment for attendees.
The Mountain Chile Cha Cha is a free event on Saturday, Sept. 23, at the Town Parks athletic field, rain or shine. Whether you are a local or a visitor, this fantastic celebration of green chile and Pagosa Springs' Hispanic cultural heritage through local cuisine, music and dance is an event you will want to attend.
Additional information is available at ilovegreenchile.com
The happenings
8:30 a.m.: 5k and 10k trail races.
12:30 p.m.: Green chile tasting.
1:30 p.m.: Live music by Sangre Joven. An Americano/Latin music concert.
10 a.m.: Beer garden opens.
Noon: Kids Corner opens with fun for kiddos.
Noon: Margarita contest and tasting where local restaurants and bars compete for the best margarita.