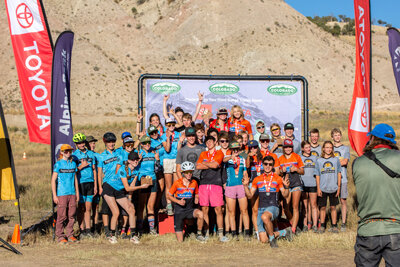 The Pagosa Springs DUST2 Mountain Bike Team places second in Division 2 at the Haymaker Classic in Eagle last weekend.
By Hadley Phillips | DUST2
The Pagosa Springs DUST2 Mountain Bike Team attended the Haymaker Classic bike race in Eagle, Colo., this past weekend.
This is a 6-mile loop with 600 feet of elevation gain per lap. Unlike the last race in Glenwood, this race is mostly single track with multiple winding berms up the mountain and a speedy descent that many riders would say is the best part. The trail winds through the cedar and sagebrush as it climbs up and down the trails bordering farmland and the Mountain Recreation Eagle Pool and Ice Rink.
The weather for this race was fairly nice if you can exclude the freezing morning for our JV boy and the sweltering heat for the afternoon races. Even through all these conditions, our racers all had amazing races.
We started off the day with our JV boy, Jack Hittle, warming up in 30-degree weather.
To paraphrase Jack after his race, "I couldn't feel my fingers pressing the shifter. I could watch them move, but couldn't feel a thing."
This was during his warm-up but, thankfully, the sun rose above the mountain for his race, where Hittle placed 47th out of 98 racers with a time of 59 minutes, 19 second. He was one of Pagosa's two racers to finish the race in under an hour.
Although the day started off cold, it began to heat up with the five freshman boys up next. Eric Smith placed 23rd with a time of 1:01, Jackson Chaney placed 25th with a time of 1:02 with Justin Sewell following close behind in 26th also with a time of 1:02, Van Halterman came through a minute behind in 27th with a time of 1:03, and Aaron Sowle finished 38th out of 64 racers with a time of 1:07. These boys flew through the course with ease thanks to the rigorous training they pursued through the prior week.
Following the freshman boys' race, the girls lined up in the chute.
This week Pagosa had eight female racers — our biggest gaggle of girls yet. Our four JV girls took off first, followed by our two sophomores five minutes behind and then our three freshman girls another five minutes behind.
The JV girls finished first, with Rylie Carr placing seventh with a time of 1:03, Natalie Mashue placing ninth with a time of 1:05, Hadley Phillips placing 11th with a time of 1:06 and Aybree Hampton finishing 20th out of 28 girls with a time of 1:14.
Adelyn Hittle passed the finish line soon after in third with a time of 1:02, Sophia Alexander finished fifth with a time of 1:03, and Kenli Bush finished 20th out of 25 freshmen with a time of 1:19.
Pagosa's one and only amazing sophomore girl, Kaylee Hensle, came through in 12th place out of 18 girls with a time of 1:20.
The amazing part about these girls racing is that girls receive more points for racing than our boys do due to the number of girls that race. This means that all eight of our girls earned over 370 points or more, just for racing.
The next race was the varsity boys with Bradley Lamoreaux representing Pagosa. He placed 12th out of 32 boys with a time of 1:16. The amazing part about this is that varsity races three laps. That means Lamoreaux finished 18 miles in 1:16. This accomplishment was made in the heat of the day with the sun shining straight down on the racers.
The final race of the day was the sophomore boys with Weston Phillips and Brady Ziminsky ready to fly through the course. Weston Phillips placed 24th with a time of 57.50, the second racer for Pagosa to get under one hour, and Brady Ziminsky placed 41st out of 74 boys with a time of 1:03. Both boys enjoyed the downhill so much that after the race was over, they rode back up to the top to slalom down.
The team waited patiently for awards, where Adelyn Hittle and Alexander took their places on the freshman girls' podium and then the whole team rose to take second place in its D2 division. This will be the third time Pagosa has placed second as they strive for that top place.
As the racers return to practice, they all will be patiently awaiting their next race in Nathrop in two weeks.