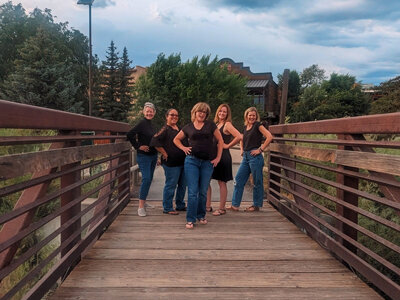 The "S'more Respect" team members include Alison Rohwer, Donna Muir, Linda Hobbs, Sara Shively-Padilla and Shellie Dolan. The team is one of several participating in the Sept. 30 Runway For Rise Fashion Gala benefiting Rise Above Violence.
By Dee McPeek | Rise Above Violence
As Girl Scout moms, this team believes "the world is a better place when we show everyone S'more respect!" Their fun, saucy attitude will be on display Saturday, Sept. 30, at the first Runway for Rise Fashion Gala.
Don't misunderstand. This competitive team and nine others are putting finishing touches on their trash bags and strategically placing their duct tape hoping to win the first ever Pagosa Prada or Catwalk Creative Awards.
There are a limited number of tickets for this new event. Get your $75 reserve seat or $50 general admission ticket at riseaboveviolence.org before they are all gone. Reserved ticket sales will end tonight, Thursday, Sept. 28, but general admission tickets will be available at the door if we are not sold out.
Join us for this evening of lighthearted fun. You'll enjoy the Runway Wine Pull including a drawing for the bottle of 2019 Kathryn Hall Cabernet Sauvignon valued at $225. You'll be treated to delicious appetizers and yummy desserts while you sip a Diva Delight or glass of wine. Come dressed up and you might win the Mountain Glam, Straight from Paris, or Head and Toe award.
There is one more day to show your respect for the time and effort these teams are devoting to Rise Above Violence. Go online to riseaboveviolence.org and vote with your dollars to help your favorite team raise the most money for Rise programs. Your donations support helplines with advocates who help callers work through troubling times. Rise advocates are trained to listen and understand. That can mean simply answering questions to providing emotional support and counseling. This free, confidential hotline/helpline is available 24/7 at (970) 264-9075.
Your ticket dollars guarantee admission for some fun on Sept. 30 while providing critical help to fellow Pagosans. Have a question about the event? Call Dee McPeek (970) 317-3224.